Fresh and healthy bowls are one of the best lunch catering options because they're so easy to eat wherever your workday takes you. Plus, they're packed full of flavor and variety. Healthy bowls are just like a salad but they have grains, proteins, toppings, sauces, dressings and sides to leave you feeling full the whole day. 
Today, we'll take you across the U.S. from Atlanta to Austin and Boulder to Denver looking at the top 24 owner-operated restaurants that serve delicious, fresh and healthy bowls for the best lunch catering (and a few breakfast catering options) with Foodee. 
Here they are. 
America's best lunch catering: 24 Fresh and healthy bowls—and where to get them
Best lunch catering in Atlanta
1. Fish Bowl Poke: Build your own healthy Hawaiian poke bowl with fresh proteins, grains and greens
2. Juicy Drop: Try the Bad Farmers Salad bowl with quinoa, roasted chicken, shaved parmesan, greens and farm-fresh vegetables.
3. Recess: Try the Super Bowl with quinoa, coconut brown rice, sweet potato, daily greens, pickled beets, chickpeas, tahini dressing, dried mango and dates.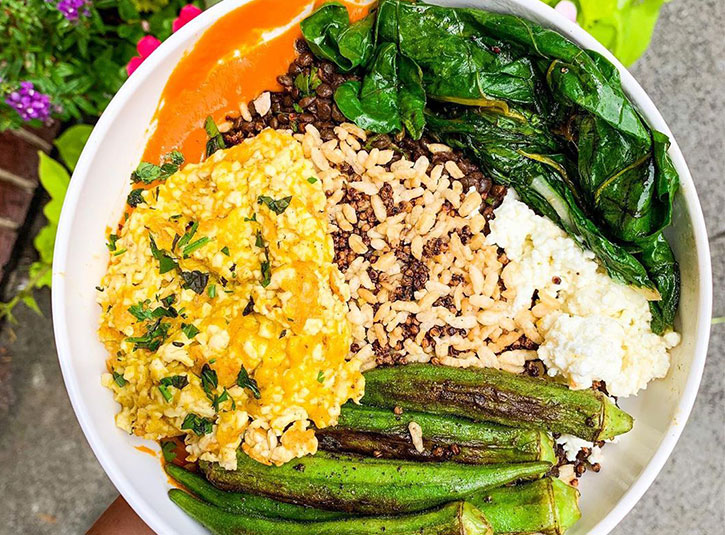 (Source: Instagram @recess_atl)
4. Sushi Burri: Try the Tuna Poke Bowl with seasoned tuna, fresh vegetables, avocado, edamame, seaweed, spicy mayo and pickled ginger.
5. Wildleaf: Share the Hearty Harvest Bowl with your team and enjoy farro, harissa sweet potatoes, kale, dates, rutabaga and lemon-tahini-miso dressing.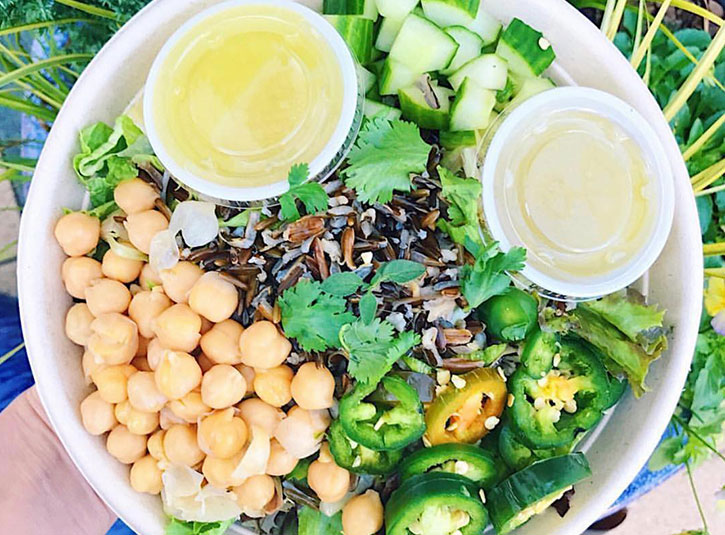 (Source: Instagram @wildleafsalads)
6. Yumbii: Build your own taco bowl salad with grains and perfectly seasoned protein.
Best lunch catering in Austin
7. Henbit: Try the Farmer's Breakfast Bowl with scrambled eggs, farmer's cheese, sausage, potatoes and crispy toast.


(Source: Instagram @henbitaustin)
8. Mezzeme: Try the Roasted Vegetable Crazy Grain Bowl with its slow-roasted seasonal vegetables over your choice of grain with any two mezzes, such as hummus and spicy tabouleh and several dressings to choose from.
9. Pinch: Try the Beef Bento Box with thinly sliced soy-marinated beef over rice with cabbage, broccoli, pickled radish, green onion and bonito flakes.
10. Poke Eatery: Try The Volcano Crunch Box on rice with citrus kale, spicy crab salad, spicy edamame, ahi tuna, spicy tuna, shrimp and several different spicy sauces and fresh toppings.
Best lunch catering in Boulder
11. Five on Black: Try the Chicken Crisp Greens Bowl with churrasco chicken on romaine with your choice of sides, toppings and dressings.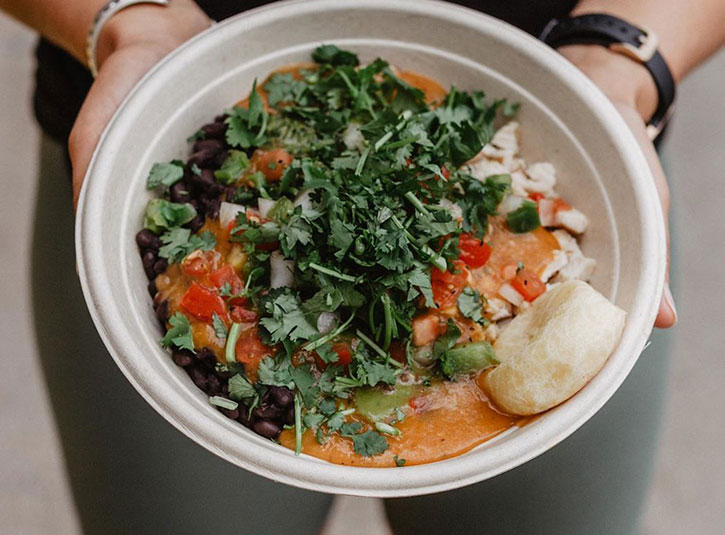 (Source: Instagram @fiveonblack)
12. Flower Pepper: Try the Vegetarian Mapo Tofu over Rice bowl with tofu stewed in a spicy soy and chili broth served on rice with onions and bok choy.
13. Motomaki: Try the Crispy Eggplant Bowl with panko-breaded eggplant, avocado, grilled asparagus, sesame bean sprouts, spicy sprouts, jalapenos, cilantro and yakiniku sauce.
14. Prosperoats: Try the Kickin' Coconut Greek Yogurt bowl with its Greek yogurt, agave, mango, coconut and crystallized ginger for your next breakfast meeting.
Best lunch catering in Denver
15. Bubu: Try the Vegetarian Thai Bowl with Rice Noodles with jicama slaw, cucumbers, crispy shallots, crispy wontons, herbs, peanuts, Thai dressing and chilled rice noodles.
16. Five on Black: Try the Roasted Veggies Brown Rice Bowl with your choice of side, sauces and toppings such as black beans, lime and spicy chimichurri.
17. Hi Tide: Try the Green Curry Salmon Bowl with rice, coconut green curry, crispy garlic, crispy shallots, toasted coconut and papaya salad.
18. Kale Me Crazy: Share the Kale Salad bowl among your team with its kale, cabbage, quinoa, serrano peppers, scallion, mint, cilantro, craisins, carrots, crushed peanuts, hemp seeds and peanut dressing.
19. Los Chingones: Try the Brisket Los Chingones Burrito Bowl with its housemade brisket, guajillo rice, peppers and onion, seasonal veggies, cilantro, queso fresco and a side of chipotle vinaigrette.
20. Mad Greens: Try the Buddha Bowl with your choice of protein, such as house grilled chicken, and wild rice, Piri Piri tofu, spinach, red onion, pumpkin seeds, edamame, carrots and citrus hoisin dressing.
21. Motomaki: Try the Hawaiian Salmon Poke Bowl with salmon poke, bacon, grilled asparagus, avocado, cucumber, crispy onions, moto slaw and Sriracha aioli.
22. Poke House: Try the Ahi-Mazing Bowl with tuna, onion, wakame seaweed, masago, cucumber, avocado, sesame, crispy onion and the secret OG Sauce.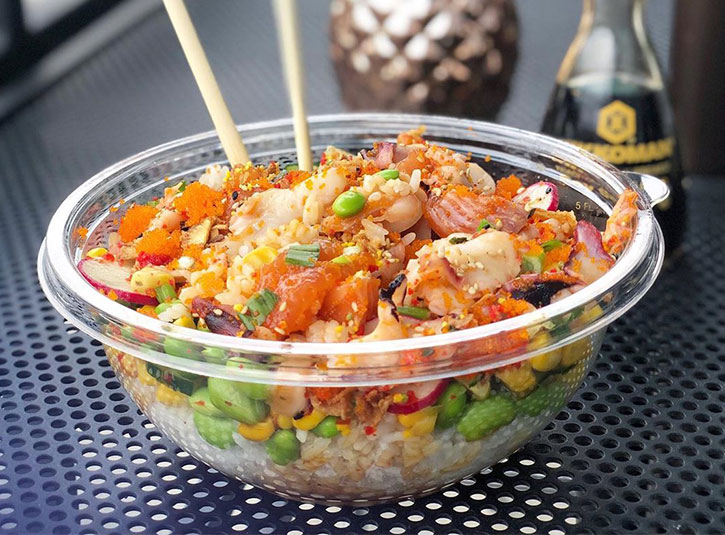 (Source: Instagram @pokehouse.co) 
23. Prosperoats: Try the Brazilian Acai Bowl for breakfast with its acai, honey, strawberries, bananas and granola.
24. Stokes Poke: Try the Shoyu Tofu Bowl with grilled tofu marinated with tamari and sesame seed oil and tossed in grilled sweet onion over a bed of rice.
Happy eating fresh and healthy bowls!
ENJOY THE ARTICLE? SHARING IS CARING.