As you know, Foodee partners with the best local, owner-operated restaurants in cities across North America to bring delicious meals to modern offices like yours. Here's a list of 50 awesome vegetarian restaurants that we love to support. 
Many of these restaurants serve protein for meat-eaters in your office too, but all of them are renowned for their vegetarian dishes—of which they have over a dozen for your office lunch catering needs.
50 awesome vegetarian restaurants in Foodee cities
Vegetarian restaurants in Atlanta
1. Baraonda Ristorante and Bar: Caprese salad and Fungi pasta with mezzi rigatoni, porcini, button and portobello mushrooms, cream sauce and truffle oil.
2. Bellina Alimentari: Rucola salad with baby arugula, Pearson peaches, hazelnuts, Parmigiano and champagne vinaigrette.
3. Bezoria: Grilled veggie rice bowl with a mix of freshly marinated grilled vegetables served on a bed of freshly steamed golden basmati rice, topped with original hummus, tomato and cucumber salad, cabbage slaw and Tahini sauce.
4. Fuegomundo: Grilled veggie wrap and a side of plantain chips with organic hummus, lettuce, onions, Spanish rice, Cuban black beans and housemade salsa.
5. Juicydrop: DO bowl with roasted tofu, shredded kale, baby spinach, carrots, broccoli sprouts, beet, chickpeas and organic apple dressing with guacamole and a baguette.
6. Kale Me Crazy, Buckhead: Deluxe acai bowl for breakfast with organic Acai, coconut milk, dates, blueberries, cashews, banana, strawberries, granola, chia seeds, hemp seeds, goji berries, sliced almonds, blueberries and raw honey.
7. Rawesome Juicery: Beet salad with a refresh juice of pineapple, apple, mint and lime.
8. Recess: Super Bowl with quinoa, coconut brown rice, sweet potato, daily greens, pickled beets, chickpeas, tahini dressing, dried mango, dates and add curried cauliflower.
9. Saba: Vegetarian lasagna.
10. Tannour Grill: Falafel wrap with ground chickpeas, parsley, onion, spices, deep-fried, served with lettuce, tomatoes, pickles, onion and garlic sauce.
11. Wildleaf: Santa Fe bowl with red quinoa, black beans, queso fresco, avocado, tomatoes, jalapeno, jicama, pickled red onion, pepitas and cilantro-lime crema.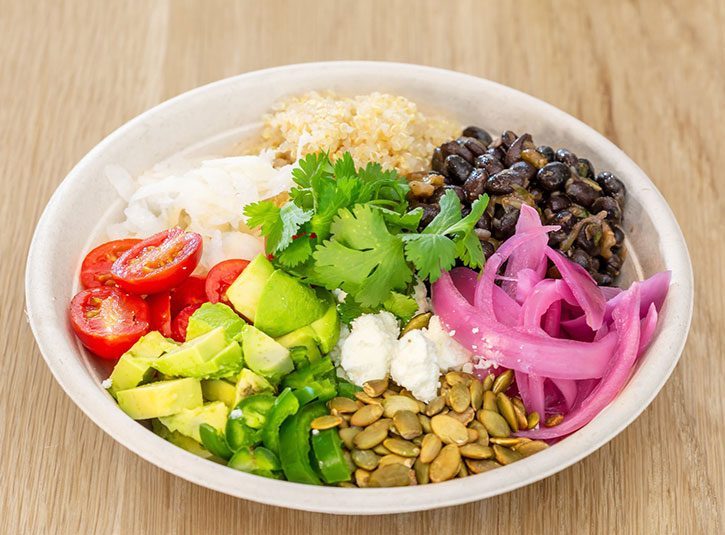 (Source: Facebook @Wildleaf Salads)
Vegetarian restaurants in Austin
12. 360 Uno Pizzeria Espresso Vino: Pasta Pomodoro with Mista salad with extra-virgin olive oil, garlic, tomatoes, fresh basil and a side salad.
13. Bombay Bistro: Punjabi Chana Masala with chickpeas simmered in fresh tomatoes, onions and spices and served on steamed basmati rice.
14. Contigo Fareground: Beyond Burger veggie burger with cheese and a side of braised greens
15. The Vanilla Orchid: The Mediterranean sandwich platter with grilled eggplant, Italian marinated artichokes, hummus, red pepper-olive-pepperoncini relish, feta, romaine, cucumber and tomato served on grilled naan bread.
16. Walton's Fancy and Staple: Garden sandwich with goat cheese, tomato, cucumber, alfalfa sprouts, onion, spinach and balsamic reduction with smashed avocado on multigrain.
17. Ya Hayati: Greek avocado salad with deep-fried chickpea patties on romaine lettuce, tomato, cucumber, feta cheese, purple onion and a pickle, plus it's topped with tzatziki and a red chilli sauce.
18. Zaika: Sharing-style vegetarian combo with veggie pakora, Dal Makhni, Saag paneer, vegetarian coconut, naan and Kheer or Gulab Jamun.
19. Via 313 Oak Hill: The herbivore pizza with mushrooms, onion, green pepper and black olives with a house salad to share.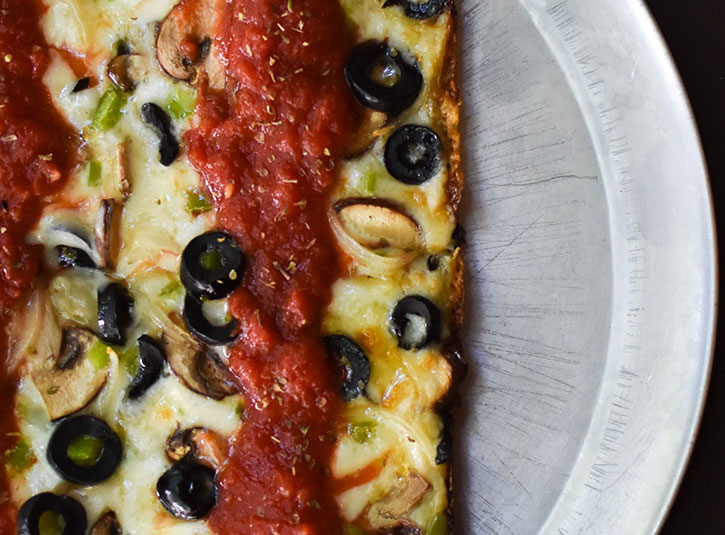 (Source: Facebook @Via313)
Vegetarian restaurants in Boulder
20. Half-fast Subs: Homemade egg salad sandwich on a French baguette.
21. Hapa Sushi: Vegetable roll and cucumber rolls.
22. Le French Cafe: Cannois grilled sandwich with eggplant, tomatoes, roasted pepper, parmesan cheese and pesto.
23. Next Door Eatery: Roasted veggie salad with organic arugula, roasted beets, charred cauliflower, organic tricolour quinoa, caramelized onion, roasted mushrooms, toasted almonds and a housemade lemon vinaigrette.
24. Organic Sandwich Co.: Beetnik sandwich with roasted red and gold beets, house-made almond feta and pea shoots on a pretzel loaf and served with a side of chips
25. Sherpa Restaurant: Sherpa vegetable stew with delicious made-from-scratch broth with vegetables, potatoes and homemade dumplings.
26. Woodgrain Bagel: Sandwich and salad box: Go for the farmstead bagel and rocket salad.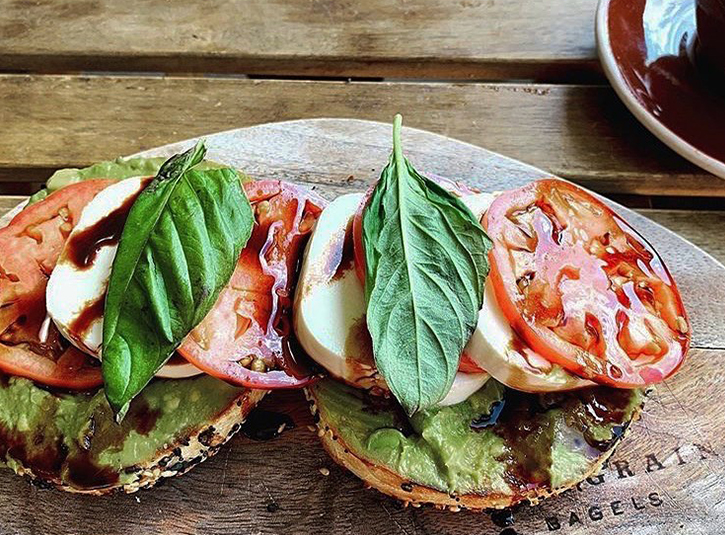 (Source: Instagram @WoodgrainBagels)
Vegetarian restaurants in Denver
27. Brider: Baby kale and shaved apple salad with candied almonds, lemon vinaigrette, togarashi and parmesan and add avocado
28. Just Be Kitchen: Wholehearted bowl of veggie green chilli with 'Cheddar Wiz', jalapenos, scallions and cilantro.
29. Kale Me Crazy Highlands: Vegan wrap tray with kale, quinoa, cabbage, carrots, pickled red onions, avocado and hummus wrapped in a spinach tortilla and served with tahini.
30. Moxie Eatery: Grilled cheese sandwich and tomato soup side.
31. Olive and Finch at Cherry Creek: Bennett sandwich with basil pesto, roasted vegetables, goat cheese, olive tapenade, red onions and spinach on ciabatta.
32. Tony P's: Vegetarian lasagna with spinach, mushrooms and marinara layered with ricotta and mozzarella cheeses.
33. Bubu: Mexican tofu bowl with black beans, cherry tomatoes, fresh corn, jicama, pumpkin seeds, Mexican dressing, rice and tofu.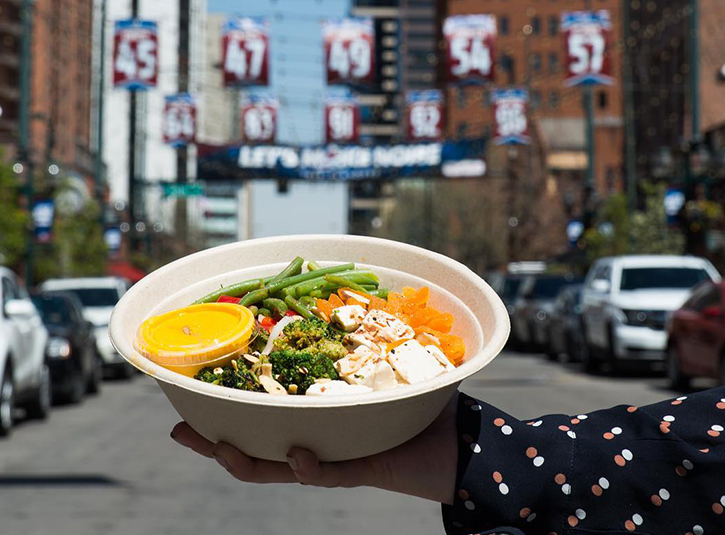 (Source: Instagram @Bubu_Denver)
Vegetarian restaurants in Toronto
34. Aaamazing Salad: Energy Salad with spinach, quinoa, hard-boiled egg, shredded carrots, corn, tomatoes, cabbage, popped corn chips, dried fig, beets, black olive, feta cheese and an Asian sesame vinaigrette.
35. Dew Haus: Plant-based breakfast buffet bar with roasted sweet potato and black beans, quinoa, and scrambled eggs with roasted corn, avocado, scrambled eggs and creamy lime jalapeño dressing.
36. Lee Chen Bistro: Chow mein and stir-fried broccoli with minced garlic.
37. Maman Bakery: Quiche Agathe with caramelized onions, roasted leeks and cheddar cheese order with a fresh salad.
38. Palm Lane: Thai crunch salad with romaine, coconut, mango, pickled carrots and kohlrabi, grapefruit, mint, Thai basil, scallions, peanuts, crispy rice noodles, crispy shallots, tofu and a Thai chilli vinaigrette.
39. Uncle Smoke Cookhouse: Vegan and gluten-free chilli is a spicy stew containing chilli peppers, tomatoes and beans and served with rice.
40. Parka Food Co.: Broccoli burger with mac sauce, dill pickles, sauteed onions, roasted garlic, lettuce and parka aioli.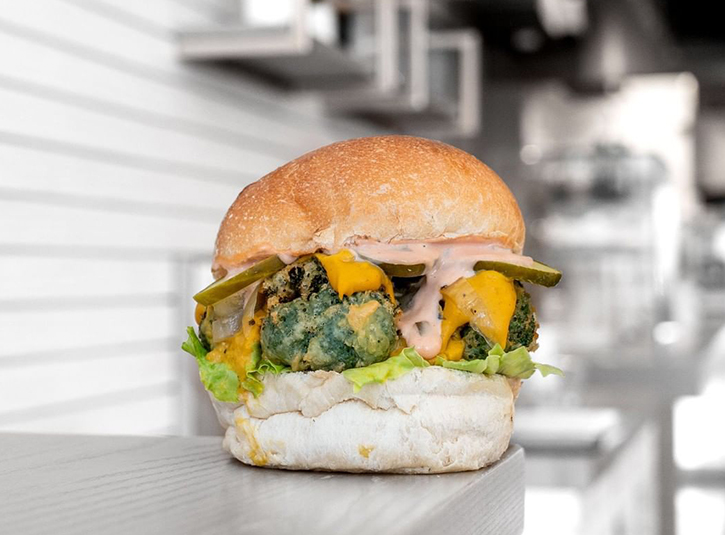 (Source: Instagram @ParkaFoodCo)
Vegetarian restaurants in Vancouver
41. Balila Taste Kitchen: Vegetable box with your choice of mushrooms, lemon potatoes, Mediterranean skewer or cauliflower and rice, hummus, pita, side salad and soup.
42. Cazba: Barley soup and veggie wrap with Kookoo sabzi and mixed with salad in pita bread.
43. Chickpea: Shawarma salad with thinly sliced tempeh, sauteed onions marinated in an exotic spice blend that includes hints of curry, sumac and coriander.
44. Edge: Roasted cauliflower and broccoli power salad with minted quinoa, arugula, edamame, pickled carrots and cilantro dressing.
45. Field & Social: Curried Cauli salad with roasted cauliflower, black lentils, kale, shredded red cabbage, pickled carrots, roasted chickpeas, red onion, mint, parsley, toasted cashews and a pomegranate vinaigrette.
46. Roaming Dragon Catering: Vegetarian noodle box with stir-fried chow mein noodles, fried organic lemongrass tofu, crimini and button mushrooms, carrots and bean sprouts tossed in hoisin based lemongrass sauce and garnished with cashews, pea shoots and crispy shallots.
47. Rolling Cashew: Toasted sandwich with house-made focaccia bread, mushroom paté, cashew spread, zucchini, red pepper, caramelized onions, kale, spinach and arugula mix.
48. Salam Bombay: Saag Panir combo with Saag Panir, Daal Makhni, rice and naan.
49. Verdura: Curried chickpeas and squash bowl with curried chickpeas, butternut squash, cauliflower, red onion, craisins, quinoa, basmati rice, kale and a vegan curry sauce.
50. Arbor: Funghi pizza with wild and cultivated mushrooms, balsamic red onion, spinach and herbed goat cheese and a side of the Arbor Caesar salad.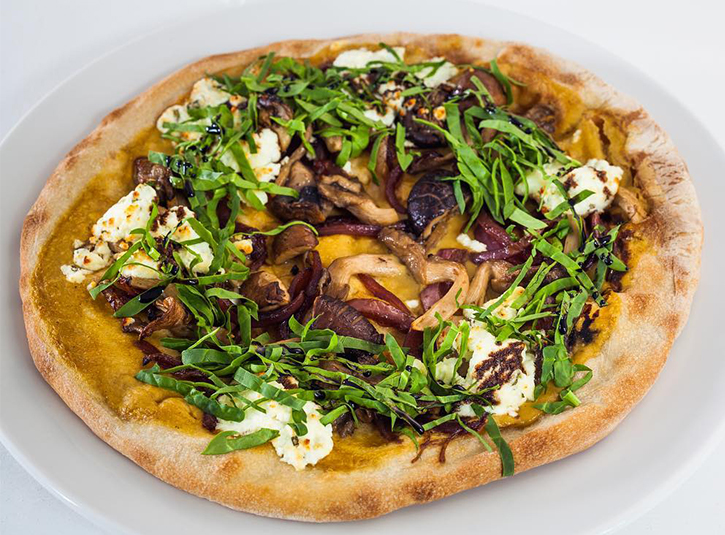 (Source: Instagram @ArborVancouver)
Happy, healthy eating!
ENJOY THE ARTICLE? SHARING IS CARING.