Valentine's Day is just a heartbeat away.
It's just one day a year when you make it quite clear,
how much you adore and place an order
of Foodee work treats from your city's best sweets!
This coming Valentine's Day offers the perfect day to show your colleagues just how much you appreciate them with something special and out of the ordinary. We're not talking about pharmacy-bought cinnamon candies and dime-a-dozen chocolates, either. February 14th should be celebrated in every office with frilly-pink doughnuts, the finest cupcakes your city has to offer and homemade, melty chocolates.
Trust us when we say that your city cooks up some delicious sweet treats and it's high time you ordered them into your workplace, sprinkling them around your office for an afternoon surprise.
Here are our top delivery suggestions of sweet treats for the most heartfelt Valentine's Day office celebration ever.
Say Happy Valentine's Day with these sweet treats office delivery ideas
Looking for bite-sized chocolates, truffles, jellies and cakes to serve alongside four o'clock tea in your office? Cadeaux Bakery in Vancouver makes delectable petit fours with truffle options such as milk chocolate earl grey or salted caramel pecan. Nom nom. Or, treat your office to vanilla chocolate-covered cheesecakes, salted caramel cream cheese brownies or even full cakes. Cadeaux Bakery makes a mouth-watering chocolate cake with dark Belgian chocolate mousse and chocolate Swiss meringue butter-cream.

As the name implies, Dlish Cupcakes in Toronto specializes in custom-made cupcakes that are the perfect Valentine's Day office pick-me-up. They're all made from scratch using the best ingredients and come in a variety of flavours—or order a mixed dozen and try them all. From Belgian chocolate cake cupcakes with chocolate frosting and pure chocolate sprinkles to velvety moist red cocoa cake cupcakes with sweet cream cheese frosting, this local joint won't disappoint.
Talk about Denver's best-handcrafted chocolates. They handmake and deliver boxes of truffles, caramel nut turtles, nut clusters and custom chocolate bars, in flavours like milk chocolate salted almond, milk chocolate hazelnut toffee and dark chocolate pecan. Imagine having a mixed box of 25 truffles in your office kitchen for Valentine's Day? Your colleagues will dream of it for weeks.
Looking for something a little cooler than the rest? Why not order in some homemade ice cream pops and ice pops dipped and coated in all kinds of delicious treats? Le Pops in Boulder, Colorado serves up some chilly cream popsicles in flavours like apple pie, goat cheese and cheery and malted chocolate butterscotch, yum. Or, try their cranberry pear sorbet or blackberry basil ice cream popsicles. What a beautiful and delicious office treat.
Owner and baker Dawn makes desserts like your cool aunt or funky grandmom used to make. These aren't your average cakes. Delights By Dawn in Atlanta makes moist cakes and cupcakes with an extra special kick of alcohol infusion. Think chocolate cherry bourbon cupcakes, chocolate Kahlua cakes and maple bacon whiskey cakes.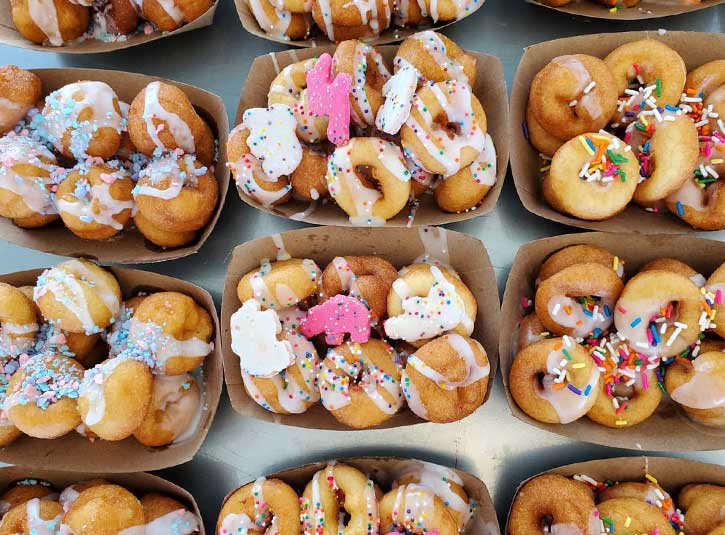 If your office has an ongoing love affair with fresh-to-order, hot mini donuts (who's doesn't?), then Little Lucy's Mini Donuts in Austin, Texas will get their hearts beating. Go for the classic cinnamon and sugar to show your workplace just how sweet you are. Or, shake things up at the Valentine's Day celebrations with a box of chocolate and espresso minis, bacon, maple and rum minis, or pistachio, lavender and vanilla.
Nadège patisserie in Toronto takes french pastries to a modern level—and if there's one thing they do fantastically well, it's making macarons. They make the most delicious, colourful and cute almond meringue wonders, aka macarons, ever. Think handcrafted crunch, followed by layers of buttercream, ganache or jam in just one, maybe two, sweet and savoury bites. Try an assortment of their signature macarons, which includes salted caramel, chocolate, rose and orange zest.
This beautiful little bakeshop in Denver is a must-visit, but thankfully for our purposes today, they've partnered with Foodee to have their baked goods delivered to offices around the city.
Treat your team to mini chocolate croissants or the French classics like chocolate eclairs or cream puffs. Plus, nothing quite says Happy Valentine's Day than a baked-to-order chocolate mousse cake or red velvet cake with cream cheese frosting.
Every Boulderite has a different reason why they love the city's iconic T&Cakes. Some love their cake pops and others their sweet and salty maple bacon cupcakes. Rather than guessing your office's favourite for this Valentine's Day, why not order an assortment of cupcakes, cake pops and cookies? Or, treat your team to a cake in any one of their amazing flavours like cookies and cream, triple chocolate, vanilla raspberry, lemon coconut, salted bourbon caramel… need I go on? Plus, they have gluten-free and vegan cakes.
If this post doesn't have you craving (and ordering) chocolate and sweet treats for a Valentine's Day office celebration, I don't know what will.
ENJOY THE ARTICLE? SHARING IS CARING.