This week, we sat down with one of Denver's top delivery drivers. We wanted to learn a bit more about his life outside of Foodee. Noah is a nature lover whose personal philosophy is to love everyone and enjoy all that life has to offer. It's also worth mentioning that his driving skills are top-notch! Shoutout to him for taking the time to speak with us!
Meet Noah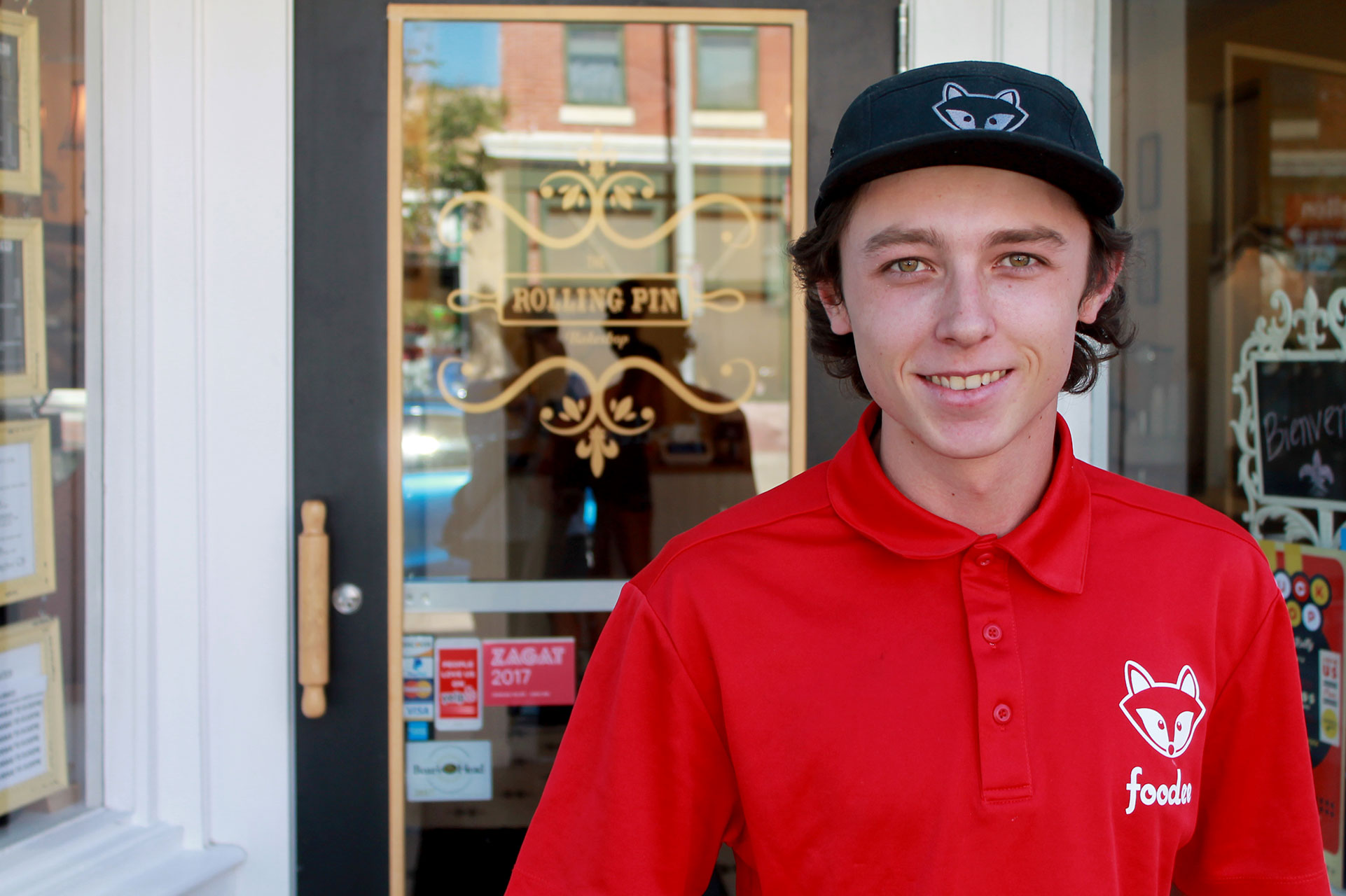 Tell us a bit about yourself.
I'm originally from Santa Fe, New Mexico. After graduating high school, I moved to LA to pursue a career as a musician. After some time I decided I wanted something slower paced and closer to nature (and skiing!), so Denver was a natural choice. I'm currently going to school for business, writing an album, and spending as much time in nature as possible.
What does a typical day look like for you?
My typical weekday usually starts with a cup of coffee followed by 1-2 quick breakfast deliveries. Between my deliveries I'll have breakfast myself, and either get a few Uber trips in, do some homework, or just relax and maybe write some music. I have class in the evenings a few days a week, and in my free time I'm usually hanging out with friends, listening to music, or getting out into nature. The Logistics Team does a great job of planning my delivery schedule around classes, appointments, and whatever else that may arise. I have the option of choosing how much I want to work and that's just how I like it!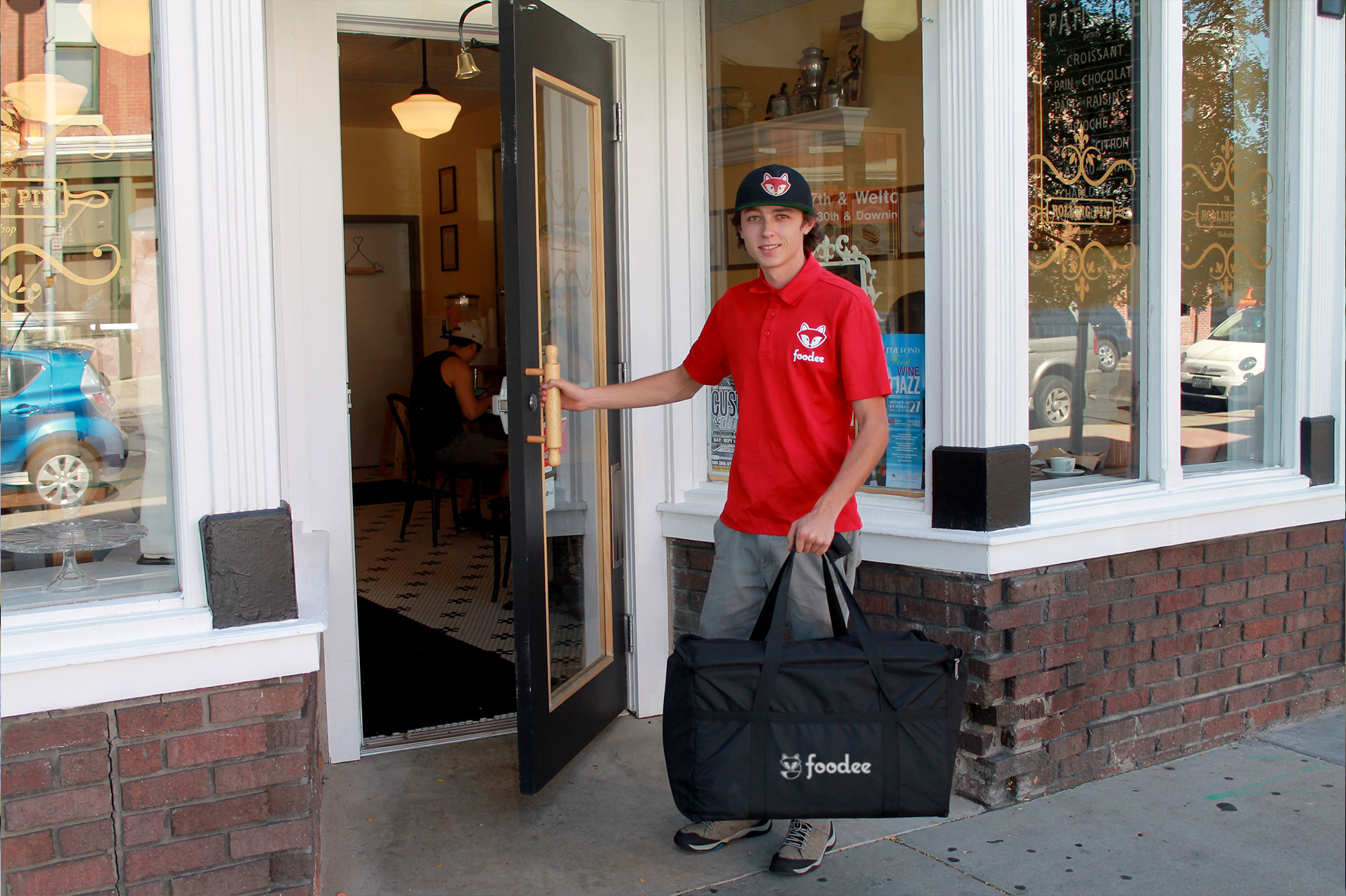 Pictured above: Noah on the job!
What do you like most about working at Foodee?
People always love the food delivery guy but in my experience, it's the busy offices that are especially happy to see us. I have been applauded and cheered for on multiple occasions upon entering the building. I enjoy bringing people food and I like how we work with restaurants that serve delicious meals because it's easy to talk up. Of course, the occasional free lunch is always a nice bonus!
What is your most embarrassing moment while working as a Foodee delivery driver?
I once delivered a taco order but forgot the crucial ingredient – tortillas! In my defense, the restaurant still had them in the warming oven and had not placed them with the rest of the order for me to pick up. But nevertheless, tacos without tortillas are not tacos. Such a travesty. Lesson learned: now on taco orders I always double check!
What advice would you give to someone wanting to become a Foodee Driver?
Be punctual, friendly, and always double check your orders – those are the keys to success!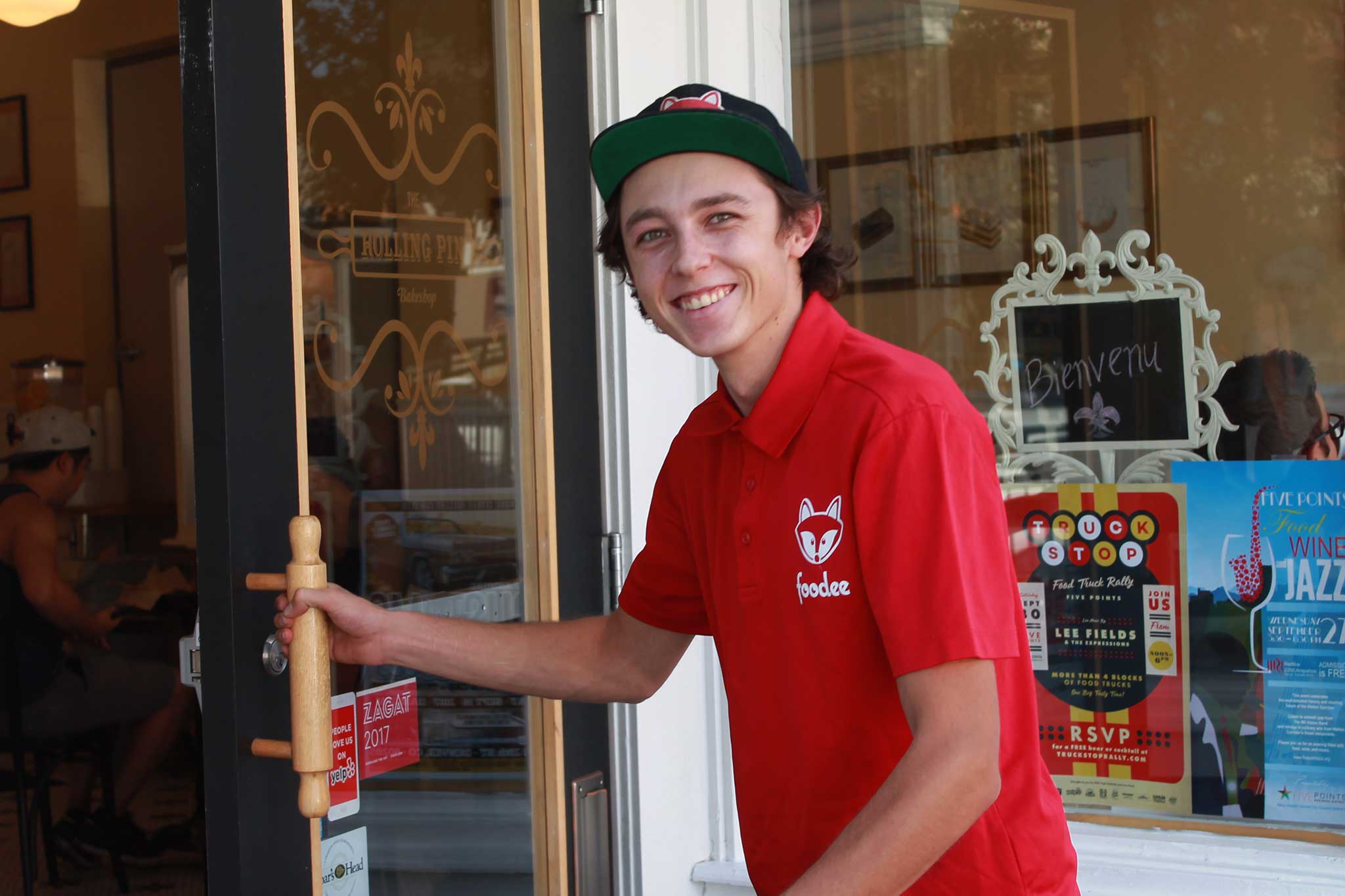 What is your favourite book and why?
It would have to be The Name of the Wind by Patrick Rothfuss – it's an excellent fantasy novel with magic and dragons. I like the book because it has an interesting and realistic feel to it, which is rare for the fantasy genre. It's kind of like Harry Potter but the writing is more complex and poetic. The main character is also more arrogant and messes up much more frequently.
What is your least favourite food and why?
I really dislike cauliflower, it smells terrible to me. My dad says I'm missing out though.
Where is your favorite place to eat locally?
Either Tocabe (one of Foodee's restaurant partners) or Chakas, which has the best green chile I've been able to find in Denver so far. (I'm New Mexican and therefore a snob about green chile.)
What is your spirit animal and why?
Apparently, it's a Coyote. When my parents were driving back to my grandmother's ranch from the hospital after I was born, they saw a coyote sitting on the road which forced them to stop before going around a blind corner. If they had kept driving, they would have hit a large snowdrift and gotten stuck in it. In order to avoid the coyote, my parents turned the corner very slowly and found the drift. They were able to back up safely and find another route to the ranch.
That's it for this month's Meet the Fleet segment! Check back in Oct. for another great profile. Want to earn some extra money? Apply to become a Foodee delivery driver today!
ENJOY THE ARTICLE? SHARING IS CARING.