Foodee has all the healthy lunch catering options, such as salads, soups, sandwiches, wraps, tacos, bowls, juices and smoothies available for office lunch catering. But sometimes, your colleagues want to indulge their lunchtime cravings and give in to the extra carbs for a deliciously mouthwatering, cheese and bacon-filled burger.
Today is one of those days. Here are our top 9 picks for the best burgers for lunch catering in the U.S. that Foodee has hot on the grill and ready to deliver to your office lunch.
America's best lunch catering: Burgers
1. Austin's All-Star Burger: Build your own burger bar
When it comes to burgers, All-Star Burger in Austin, Texas will not disappoint. They've partnered with Foodee to create the ultimate build-your-own-burger bar for America's best lunch catering option. They have farm to table burger bars for beef, turkey, and veggie patties. The beef burger bar, for example, includes pure Angus beef patties with a white and whole wheat bread bun mix. Top these juicy burgers with America's best Tillamook cheddar cheese, green lettuce, local tomatoes, red onion slices, pickles, mayo, and sloppy mustard. Yum.

(Source: Instagram @allstarburger)
2. Atlanta's Publik Draft House: House burger with fries
Publik Draft House is a burgers n' beer gastropub institution at the heart of Atlanta, Georgia. If you're looking for some fun lunch catering to order into your office on say, a Friday afternoon, go ahead and order their classic house burger with fries. It comes with not one but two all-natural Allen Brothers beef patties, lettuce, tomatoes, onion, and pickles on a house-made bun. Go ahead and add a topping of avocado or bacon. Serve that with their infamous cajun fries and you have yourself a party.
3. Austin's Oakwood BBQ: Tex-Mex sliders
Oakwood BBQ in Austin Texas knows how to get saucy and barbeque meats. Try their Tex-Mex sandwich combo with pulled pork slides that are topped with house-made pickls, coleslaw, and crispy onions on a sweet, sweet bun. Plus, these cute little burgers come with chips and a cookie. It's just like being in school.
4. Austin's The Hot Box Diner Mobile Kitchen: Slider bars
Speaking of sliders, Austin's The Hot Box Diner has partnered with Foodee to make their very own DIY slider bar for the best lunch catering in the U.S. These slider bars come in all shapes and sizes. They have BBQ chicken sliders, chicken salad sliders, pulled pork, falafel, and vegan falafel sliders for groups of 10 and more. Why not pair those with a few of their infamous sides, like sliced avocados, black beans, or mac and cheese?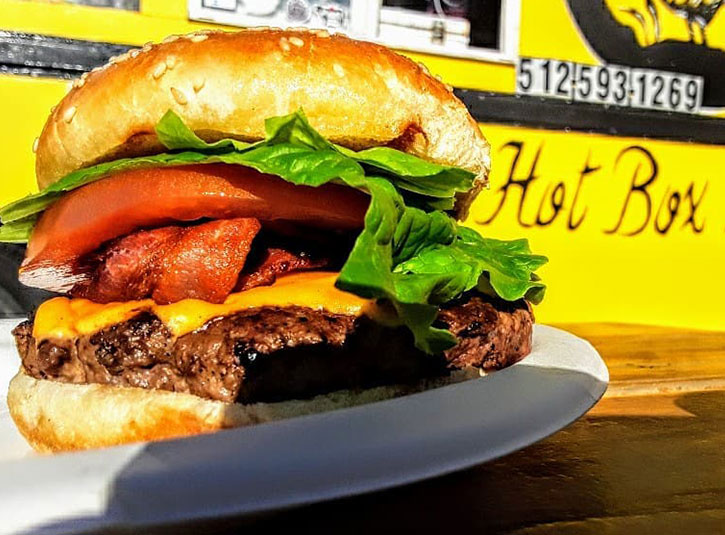 (Source: Instagram @_thehotboxdiner_)
5. Austin's Waterloo Ice House: The old-fashioned cheeseburger
No post about America's best lunch catering would be complete without mentioning the old-timer's classic cheeseburger. Austin is set for burger lunch catering with Waterloo Ice House's cheeseburgers on the menu. They're serving up American cheese, lettuce, tomatoes, onions, pickles, mayo and mustard on all-natural, premium black Angus burgers and toasted buns. Yes please.
6. Boulder's Next Door Eatery: Next Door beet burger
We would be remiss to not discuss the trendiest kind of burger around these days: the beet burger. Lucky for Boulder (and Denver, for that matter), that Next Door Eatery is grilling up vegetarian burgers made of beet patties with arugula, onion, feta, and balsamic dressing. Sounds delicious and healthy.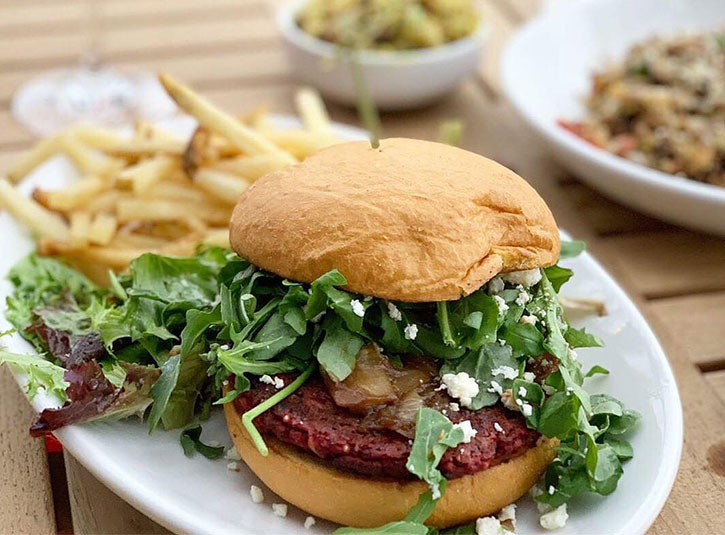 (Source: Instagram @nextdooreatery)
7. Denver's Smokin' Yards BBQ: Carolina pulled pork burger-bun sandwich
Okay, so Smokin' Yards BBQ's Carolina menu item is actually a pulled-pork sandwich disguised as a burger in a hamburger bun, but you'll thank us later. It comes on a sesame seed hamburger bun with BBQ mustard and coleslaw on Carolina-spiced pulled pork. Your colleagues will agree that this is one of America's best lunch catering options.
8. Denver's Next Door Eatery Union Station: pineapple express burger
Denver and Boulder's Next Door Eatery's are serving up unforgettable burgers, including the pineapple express or the Baja burger. As for the Baja burger, it's Californian name would suggest, this burger comes with guacamole, cilantro slaw, pickled jalapenos, and lime crema. Any burgers with smashed avocado and we're in.
9. Denver's Prohibition: Short rib burger
Short rib burger. Need I say more? Sounds messy, flavorful and amazing. Denver really does have it all with Prohibition's burger options. Their short rib burger even has jus drizzled all over it and its warm brioche bun.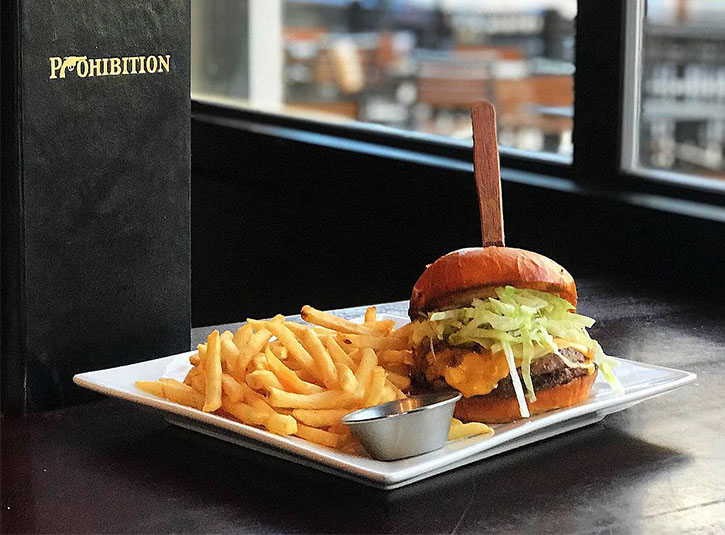 (Source: Instagram @prohibitiondenver)
Happy eating!
ENJOY THE ARTICLE? SHARING IS CARING.